What's trending...
Latest news & updates from the event industry
Manage access rights to your account
Posted Dec 16, 2020 in New releases, User guide
With idloom-events permissions' module, you can easily manage access rights and permissions for each of your users!
Manage what users can see and edit on your idloom-events account!
Always striving for improvement and innovation, at idloom we have recently reworked roles and permissions to help our clients monitor better the access rights of their users.
Are several users working on your idloom-events account? Do you give access to your clients or partners to your backend, but want them to be able to see the guest list of only one particular event, not all? Do you have staff dedicated to doing check-ins only, while others manage the actual event page?
With idloom-events permissions module, you can easily manage access rights and permissions for each of your users!
Here's how it works:
From your account backend, go to Permissions, where you'll see all your account's users listed
To edit a user's permissions, simply click on his/her name and click on Edit
There, you'll see two types of permission settings:
Permissions per Account
"Admin" – can access all general account menus, such as settings, subscription plan, and permissions.
"Limited access" – only has access to the events' menu as well as guest lists, but not to any core setting of the account.
(Available from Premium subscription)
Permissions per Profile
"Admin" – can access all events and features linked to the profile
"Event Manager" - can access and edit all events under a given profile but cannot edit the profile settings
"Event Editor" – content editor - can only edit the content of and cannot edit the guests list
"Guest Manager" – can edit the guests list and modify guests status but cannot edit the event content
"Event Staff" – prevents the user from modifying event and guest data and profile settings. For all events organized under this profile, the Event Staff user can only view the guest list, view statistics, and manage the check-ins for this profile's events (only).
"No access" – a user with no access to a profile won't have access to anything under this profile and won't even notice its existence.
(Available for Coporate subscription only)
Create your own role
In addition to Profile Admin, Event Manager, Event Editor, Guest Manager and Event Staff, idloom-events has now created a new completely customizable role. It's very easy and user-friendly!
Go to Permissions in the left sidebar
Click on Edit roles
Click on Create new role in the top right corner. A new column is added
Give your role a name in the Role name field
Check the boxes corresponding to the permissions you want to enable for your role
Click on Save. Your role has now been created
Once your new role has been created, go back to Permissions and edit the user you want to assign this role to.
In the Account permission field, select Limited Access
Choose the role of the selected user for each profile of this account
Click on Save
Event Owner
In addition to the above-mentioned roles, you now also have the "Event Owner", who is by default the person who created the event.
"Event Editor", "Guest Manager" and "Event Staff" roles would not be able to see Event Owners or to modify them, whereas account and profile admins can. Each event can have multiple owners.
Feature to "Lock" an event
Thanks to our brand-new Lock feature, you can now monitor better who has access to your events and can edit their data.
A locked event can only be edited and accessed by Event Owners, Admins and Event Managers. Other users would only see the event in the event list, but cannot edit it or access the guest list. We still let them see them in the list, so that you don't have people who create the same events multiple times because they didn't see them.
Admin, Event Owners and Event Managers roles are able to lock / unlock all events to which they have access.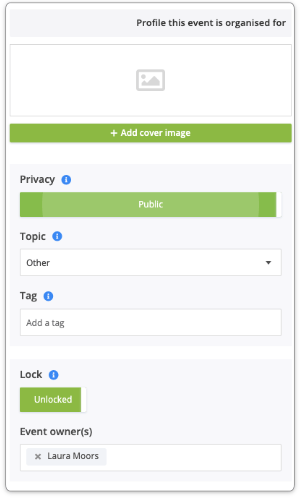 Tips:
Unlimited users can be created with all our pricing plans. Account permissions can be set up from our Premium subscription, while profile permissions are only available to Corporate subscriptions.
Because our clients have unique needs, idloom-events lets you manage your users' access roles with precision. Check our detailed permissions map for all users.
If you have any questions about the above, do not hesitate to contact us directly for further information.
Enjoy!
The idloom team
Create your first Event for FREE