Juggle your sources using the online stage
With the emergence of COVID-19, virtual events have become part of our daily life. Even though hosting an online event has never been easier with idloom.events, we are always looking for new ways to provide a unique experience for our users and their attendees.
Therefore, we are proud to release our new feature: the idloom online stage.
From now on, you can make your virtual event more interactive than ever by broadcasting multi-source content: livestream, Q&A, polling, pre-recorded videos, infographics, etc.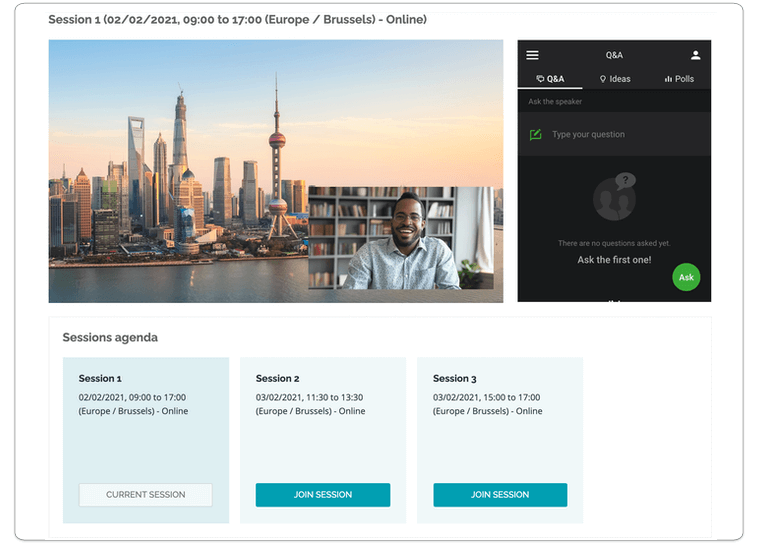 Here is how it works:
The process for the online stage is exactly the same as for an online location:
Create your event and set up as many online stages as you need (more info below)
Create your categories and options as usual
For each option and/or category, link an online stage
Registrants select their options as with any other event
In the confirmation email, there are links to each of the online sessions they have registered for, as well as links to add these sessions to their calendars (in the right time zones)
By clicking on these links, your attendees will be redirected to an idloom countdown page until the event begins
Once the countdown ended, the page will automatically refresh, and the attendee will enter the meeting
In the backend, idloom records a check-in for each attendee that has accessed the online session
Step by step setup
From your account backend, go to Additional locations, click on Add location and choose Online stage. There, you'll be able to configure your online stage.
Define the layout
Select the desired display between:
Full screen
Left side bar: display an additional screen to the left of the main screen
50-50: divide your online stage in two identical size screens
Right side bar: display an additional screen to the right of the main screen
Add one or two more sections
Overlayer: display a small screen on the main screen
Footer: display a screen under the main screen
Define the sources
From the left menu External sources, drag and drop Custom embed field into the main screen. Enter your content embed code and click on Save
Repeat the process if you have several screens to fill
My agenda
Display the attendee's individual agenda on the footer section. Your attendees will see all the event online sessions for which they have registered. Once the session is over, the page will automatically refresh and take the attendee to the next session page.
Give your online stage a name (Alias), associate it with a proper time zone and click on Save. Starting from now, you can preview the online stage by clicking on Preview.
You are all set now, enjoy!
The idloom-events team