Algemeen evenement inchecken
Open uw webbrowser op elk mobiel apparaat (Google Chrome wordt aanbevolen) en log in op uw idloom.events account.
Houd er rekening mee dat de check-in functie compatibel is met elk mobiel apparaat, zoals een smartphone, tablet of phablet, werkend onder elk mobiel OS: Android (Android Market), iOS (AppStore), Windows, BlackBerry, enzDeelnemers kunnen natuurlijk ook via een computer worden ingecheckt.

Selecteer uw evenement in de lijst met evenementen en tik op de knop met de drie puntjes naast de naam van het evenement en selecteer Inchecken. Onze Check-in tool is ook toegankelijk via het tabblad Algemeen > Check-in van het evenement.
Je komt dan op de incheckpagina, waar je deelnemers kunt inchecken door simpelweg de QR-code te scannen die zij hebben ontvangen in hun bevestigingsmail.

Indien een deelnemer zijn QR-code niet bij de hand heeft - bijvoorbeeld doordat hij zijn ticket is vergeten mee te nemen of de e-mail heeft verwijderd - voer je eenvoudigweg zijn naam in het veld Deelnemer zoeken in om verder te gaan met het inchecken.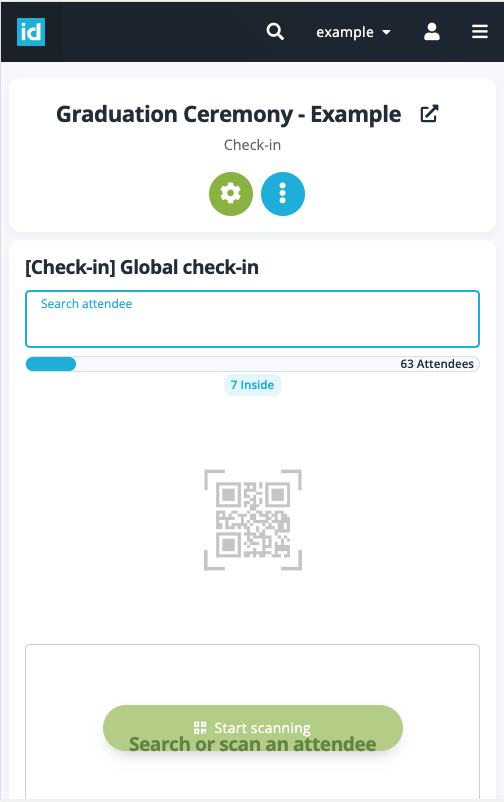 Bij het inchecken toont het systeem de informatie van de deelnemer, zijn/haar registratiestatus en geeft het een waarschuwing als er nog niet is betaald.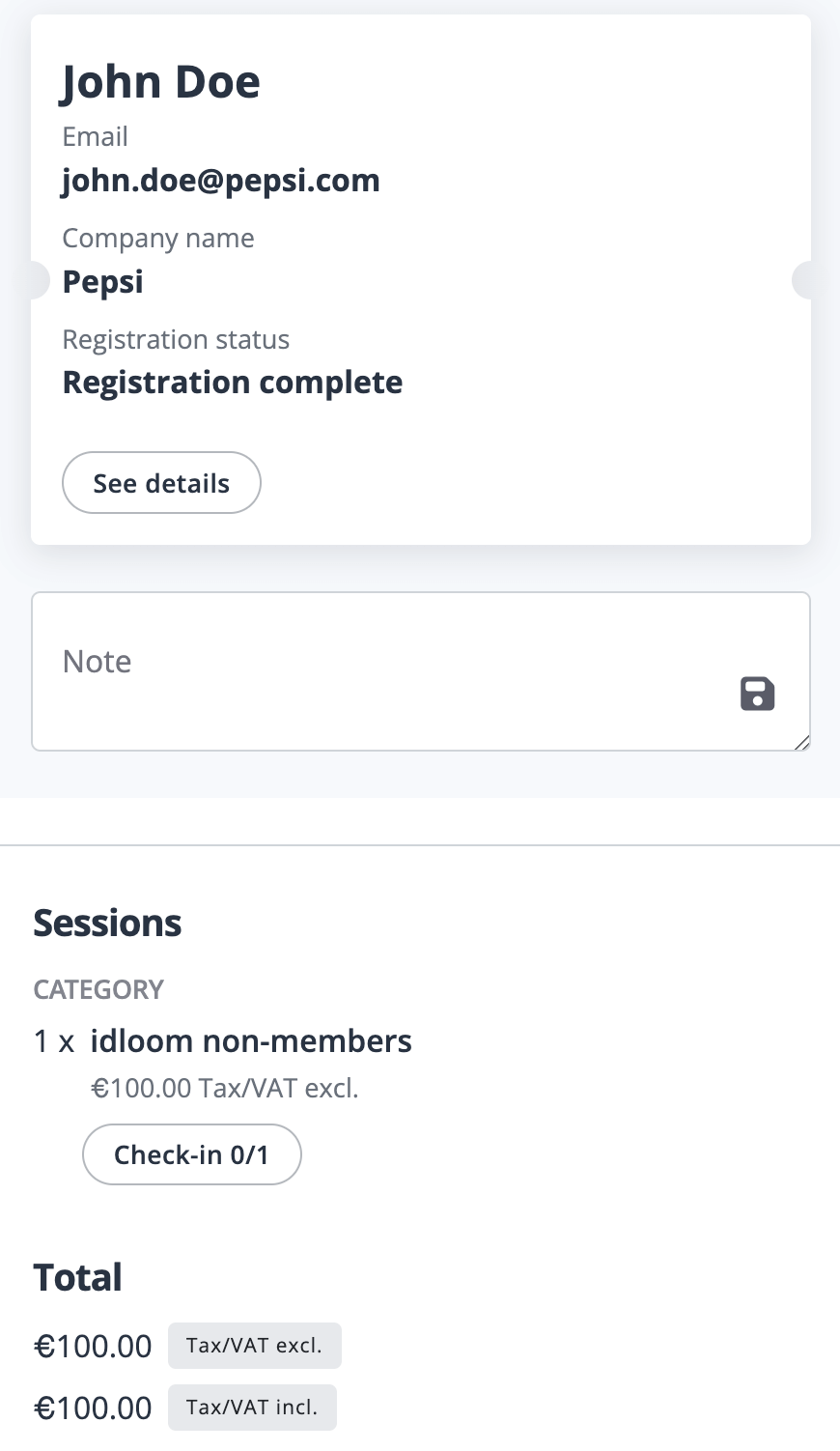 Op ons platform kun je deelnemers ook uitchecken. Hiervoor hoef je alleen de schakelaar voor in- en uitchecken om te zetten en opnieuw te scannen voor het uitchecken.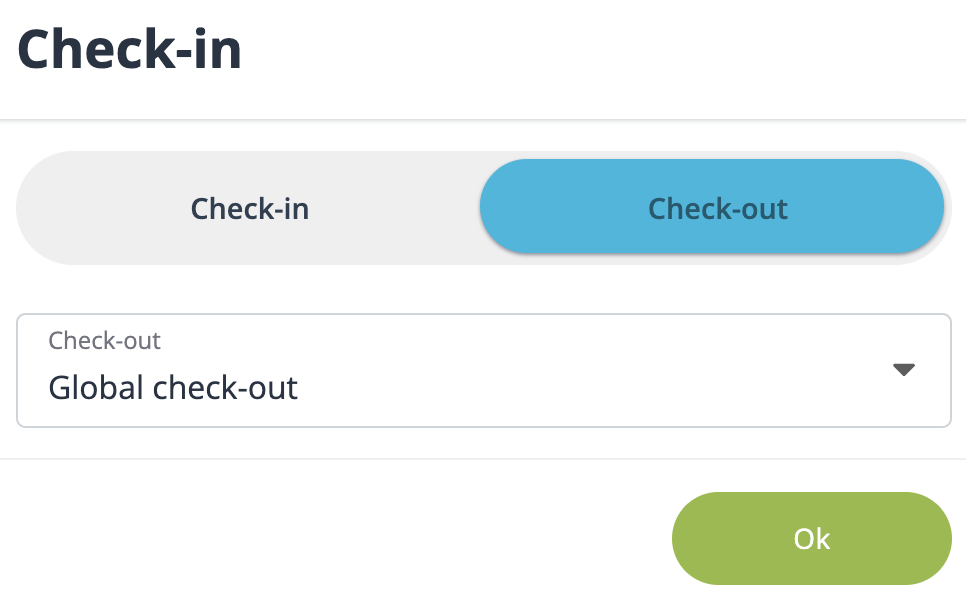 De gegevens controleren
Op de lijst van deelnemers kun je snel zien welke personen aanwezig zijn op jouw evenement door te filteren op de Check-in status.
Exporteer gemakkelijk de incheckgegevens van je bezoekers naar een .xls-bestand. Het bestand bevat de exacte tijdstippen van de in- en uitcheckmomenten van de aanwezigen.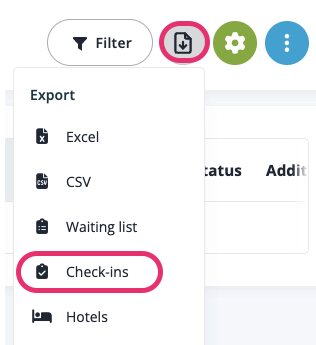 Bezoekers inchecken per sessie
- Beschikbaar vanaf een Premium-abonnement.
Op de Check-in pagina kun je er ook voor kiezen om je bezoekers per sessie in te checken. Selecteer eerst of je wilt beginnen met het inchecken of uitchecken van deelnemers. Kies vervolgens de categorie of optie waarmee je wilt beginnen met controleren.
Het is belangrijk op te merken dat alleen deelnemers die zich hebben geregistreerd voor deze individuele sessies kunnen inchecken. Als ze niet zijn geregistreerd voor de betreffende categorie en/of optie, verschijnt er een foutmelding (Aanwezigen niet geregistreerd voor deze optie).
Extern scanapparaat koppelen aan onze check-in tool
Bij idloom.events kunt u eenvoudig een extern scanapparaat via Bluetooth koppelen aan onze check-in tool.
Activeer Bluetooth in de instellingen van uw smartphone of tablet en selecteer de eerder ingeschakelde barcodescanner. De verbinding tussen de scanner en uw apparaat is simpel en vereist geen installatie. Mocht u problemen ervaren, raadpleeg dan eerst de handleiding of laat ons weten welk type scanner u gebruikt.
Scan de QR-code op de bevestigingsmail van de deelnemer en u ziet een URL verschijnen in het veld Deelnemer zoeken. Deze wordt uiteindelijk omgezet in de UID van de deelnemer en de deelnemer wordt ingecheckt.
Als u een URL met vreemde tekens ziet, die eindigt op "no matching attendee" in plaats van de naam van de deelnemer, controleer dan of uw scanner correct is geconfigureerd en of het toetsenbord op uw smartphone of tablet hetzelfde is als dat van de scanner.
Wij wensen u veel succes en plezier met uw evenementen!

Het idloom.events team

Het idloom.events team
---