De catalogusmodule, die beschikbaar is vanaf een Light-abonnement, is gebruiksvriendelijk en zeer aanpasbaar, met geavanceerde filters, groepen evenementen en nog veel meer, waardoor het een perfect hulpmiddel is om uw evenementen te promoten.
Basis
Om je catalogus aan te maken, klik je op het catalogus icoon in het linker zijbalk menu en vervolgens op de +Catalogus toevoegen knop rechtsboven in je scherm. U kunt dan de naam, URL en hoofdtaal van uw catalogus definiëren.
Gemakkelijke toegang tot uw catalogus
U kunt op elk moment gemakkelijk toegang krijgen tot uw catalogus door eenvoudigweg te klikken op de knop naast de naam van uw catalogus bovenaan het scherm. Het is vooral handig om in real-time de aangebrachte wijzigingen te zien.

Catalogus status
De status van een nieuw aangemaakte catalogus staat standaard altijd op Offline. Om de status van je catalogus te wijzigen, klik je op de knop Meer acties rechtsboven in het scherm en kies je of je je catalogus wilt Publiceren of Verwijderen.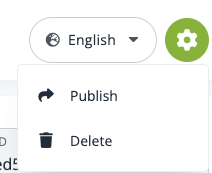 Catalogus toegangsrechten
Zodra u uw catalogus heeft aangemaakt, kunt u één of meerdere eigenaren aan uw catalogus toewijzen en deze net als uw evenementen vergrendelen om de toegang te beperken.

Standaard hebben Account Admin en Profiel Admin toegang tot de catalogus sectie. Je hebt ook de mogelijkheid om elke andere gebruiker toegang te verlenen in de sectie Machtigingen.
Alleen voor Corporate abonnementen
Kies of de instellingen (branding, kleurensjabloon, aangepaste URL, enz.) van uw account of een specifiek profiel moeten worden toegepast op uw catalogus. U moet ook het profiel of de profielen selecteren waarvoor u wilt dat de evenementen in de catalogus worden weergegeven.
Evenementen
Kies de naam van de evenementensectie in uw catalogus, stel het maximum aantal evenementen in dat per pagina wordt weergegeven en bepaal of uw evenementen worden gerangschikt op evenementnaam, begindatum of einddatum. Merk op dat alleen uw komende openbare evenementen worden weergegeven in uw catalogus.

Geavanceerde catalogus
- Beschikbaar op aanvraag -
Catalogus stroom
Bepaal eenvoudig welke secties je wilt weergeven in je catalogus door simpelweg de toggles te activeren volgens je voorkeuren. Gebruik een eenvoudige sleepbeweging om de verschillende geactiveerde secties in uw catalogus te herschikken. De beschikbare secties zijn: Coverafbeelding, Beschrijving, Filters, Groepen evenementen, Gebeurtenissen en Voettekst.
Inhoud
Upload een specifiek logo voor uw cataloguspagina volgens de aanbevolen grootte en voeg een omslagafbeelding en een algemene beschrijving toe met behulp van de inhoudseditor, net als bij uw evenementenwebsites.
Filters
Pas je catalogus aan met de filters die standaard beschikbaar zijn. Vink gewoon het vakje aan dat overeenkomt met de filter die je wilt inschakelen in de kolom Gebruik. U kunt zelfs uw eigen aangepaste filters toevoegen met onze metadata-functie. Neem contact met ons op als u hierover meer informatie wenst.
U kunt ook een URL genereren waarin de filters van uw keuze al zijn toegepast.
Dit is erg handig als u uw catalogus alleen wilt delen gefilterd op specifieke parameters (gratis of betaald, fysiek of online, enz.). Klik op de knop URL genereren en voeg de filters toe die u wilt gebruiken.
Groepen van evenementen
U kunt ook verschillende groepen evenementen aanmaken door filters te combineren. Dit geeft u de mogelijkheid om specifieke groepen evenementen visueel te markeren. U kunt bijvoorbeeld een groep "Fysiek betaalde evenementen" maken door de filters Type en Prijs te combineren en inschrijvers snel toegang te geven tot die evenementen.
Om een groep evenementen te maken, klikt u op de knop +Groep toevoegen, geeft u uw groep een naam, uploadt u een omslagafbeelding, voegt u een beschrijving toe en selecteert u welke filters op uw groep evenementen moeten worden toegepast.
Voettekst
Als je aanvullende informatie wilt toevoegen op je cataloguspagina, kun je de sectie Voettekst activeren en de inhoudseditor gebruiken om je aanvullende inhoud in te voeren. Dit kan handig zijn als je links wilt toevoegen naar je Resources, Over ons of Contact pagina's.
Overzicht van de catalogus
Wij wensen u succes en plezier met al uw evenementen!
Het idloom.events team